Return to Headlines
PA School Performance Profile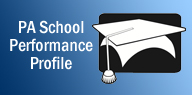 The Pennsylvania Department of Education launched the School Performance Profile (SPP) in October 2013 as a new standard for academic performance throughout the state. SPP provides the public with a comprehensive student academic performance overview of every Pennsylvania public school, including traditional public schools, charter schools, cyber charter schools and career and technology centers. SPP serves the following purposes:
provide parents/guardians with performance measures for their child's school;
inform the public of academic performance of all Pennsylvania public schools;
provide a tool to inform goal setting, planning and resource allocations to improve student achievement; and
provide a building level score for educators as part of the educator effectiveness evaluation system.
Title I Schools
In addition to SPP, Title I Schools (schools denoted with a high percentage of low - income students) receive a federal designation of 'Priority', 'Focus' or 'Reward' based on four annual measurable objectives:
student participation on the Mathematics and Reading Pennsylvania System of School Assessment (PSSA) exams and the Algebra I, Biology and Literature Keystone exams;
student graduation and attendance rate;
closing the achievement gap of all students - reducing the number of students who score below 'Proficient' on the PSSA, Keystone exams and the Pennsylvania Alternate System of Assessment (PASA) by 50% over a six year period; and
closing the achievement gap of historically under-performing students - reducing the number of students with disabilities, economically disadvantaged and English Language Learners (ELL) who score 'Below Proficient' on the PSSA, Keystone and the PASA by 50% over a six year period.
Helpful Information About the PA School Performance Profile
To see each individual school's SPP, go to: www.paschoolperformance.org
click on 'Select Your Role';
select 'Cambria County' on the map;
type in 'Blacklick Valley School District' or move your cursor over the map to identify the district.
The following documents have been provided by the Pennsylvania Department of Education in order to provide insight into understanding the new School Performance Profile accountability data.